Vauxhall Vivaro Surf Concept Revealed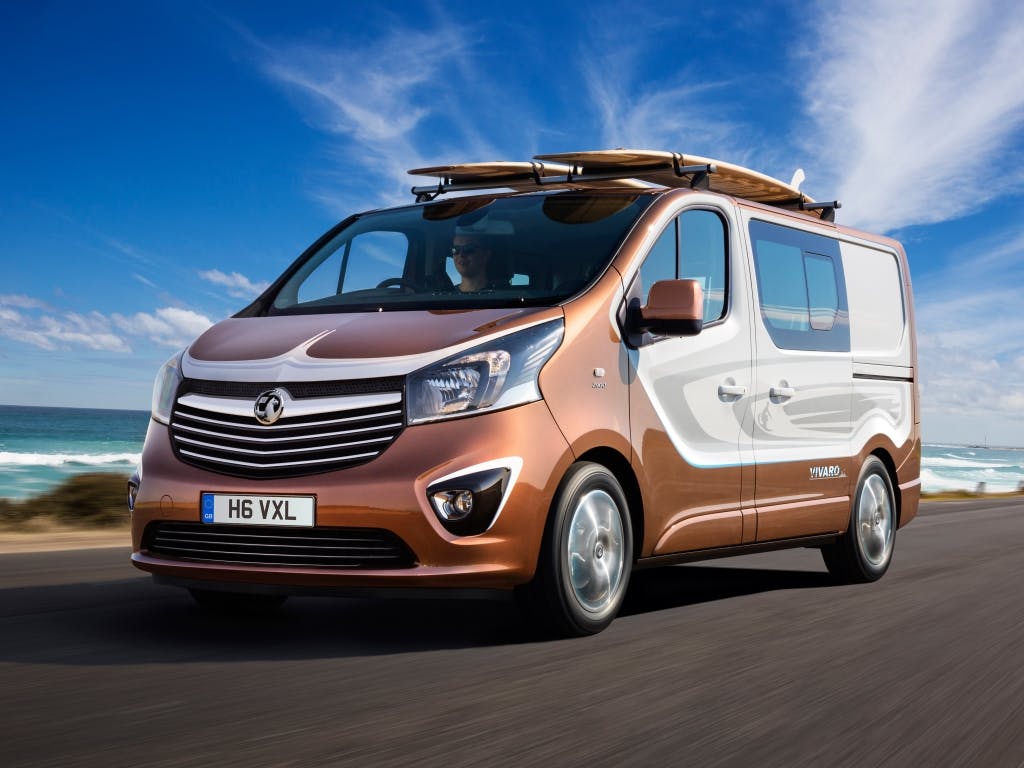 Vauxhall will showcase a UK-built Vivaro Surf Concept at the Frankfurt Motor Show this year.
This lifestyle version of the Vivaro is ideal for sporting activities and can accommodate five to six passengers (depending on the seating configuration) along with sport and fitness equipment.

Roomy and spacious, this doublecab van offers a separate cargo area of 3.2m3 – or 4.0m3 for the long wheelbase version. The Vivaro Surf Concept is ideal for transporting wet or dirty items after a trip to the beach or to the mountains in the large cargo area.

The Vivaro Surf Concept is a real eye-catcher with its shiny copper-brown paintwork. Customised Irmscher alloys complete the look.

The lifestyle van shows its full functionality once the doors and tailgate are opened – either manually or via Keyless Open. A cargo area with a total permissible weight of up to one tonne is extremely practical with plenty of room for skiing or snowboard equipment, surfboards or bikes. The floor of the cargo area is fitted with a newly-developed rail system; the entire width under the second row of seats is used for a storage box that can hold small items. The interior, fitted by the specialists from Snoeks Automotive, features blue lighting in the sidewalls and the roof liner.

On the roof, the Surf Concept has a special surfboard bracket so that longboard fans don't have to go on holiday without their beloved board.

Powered by a 1.6-litre CDTi (140PS) BiTurbo, it mobilises 340Nm of torque and propels the Vivaro Surf Concept to a top speed of 112mph. The ecoFLEX version with Start/Stop achieves 46.31mpg, which is equivalent to 160g/km (preliminary values).

The idea of providing additional comfort also features in the suspensions system. The air suspension at the rear axle compensates for all sorts of bumps in the road giving passengers a comfortable ride, shortened springs also reduce the vehicles height by around 7cm to 1.80m.

The spacious and comfortable Vivaro Surf Concept will be on show at the International Motor Show in Frankfurt and could soon go on sale at Pentagon Vauxhall as a "Limited Edition".