Tuntum Housing Association Takes Delivery of New Vauxhall Vans from Pentagon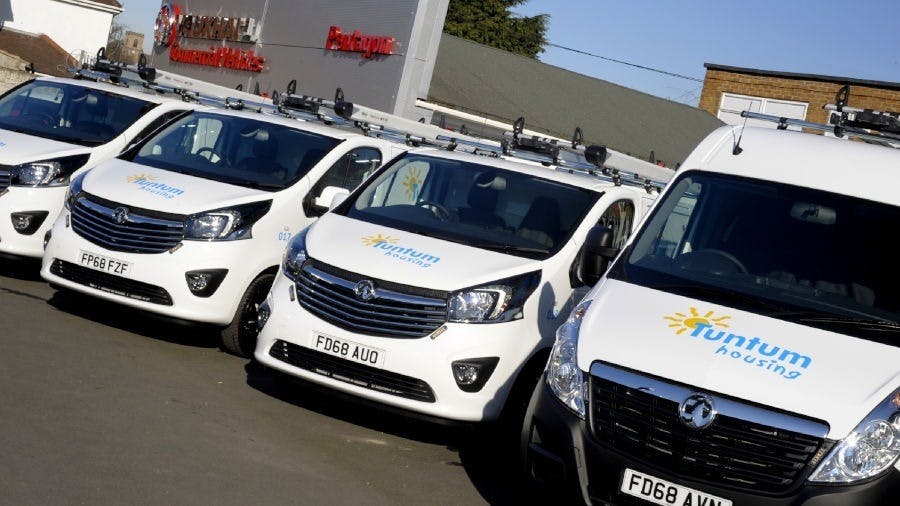 The Nottingham-based housing association, Tuntum, has added five new Vauxhall vans to its fleet, comprised of three British-built Vivaro and two Movano models. The new vans will be used as mobile workshops by Tuntum's field-based engineers on an everyday basis.
Specially adapted for use by Tuntum, the Vivaro and Movano vans are all equipped with state-of-the-art technology, including remote ultra-sonic alarms, vehicle trackers, and rear parking cameras. To transform the vehicles into true on-the-road workshops, each of them has been fitted with equipment such as racking, a split charger relay with battery, voltage inverters, WISA deck flooring, and hand wash dispensers.
Safestow systems and 3.0m lockable pipe tubes help to transport goods and materials, while Thatcham deadlocks ensure maximum security. To ensure driver and passenger safety, all vehicles are equipped with a first aid kit and fire extinguisher.

For the three British-built Vivaros, Tuntum Housing Association opted for the Limited Edition Nav 1.6-litre CDTi BiTurbo (125PS) model, which features a Navi 50 IntelliLink infotainment system, automatic lighting control, and FLEXDOCK docking station for smartphones. For the Movanos, Tuntum chose the L2H2 2.3-litre (130PS) CDTi BiTurbo model, which feature Bluetooth connectivity and USB for smartphones, easy access nearside sliding side-access door, and a full-height steel bulkhead.

The Vauxhall vans were supplied by the local dealership Pentagon Nottingham. Pentagon Nottingham is one of Vauxhall's largest business hubs and has an excellent reputation for building strong relationships with local businesses in and around the Nottinghamshire area. Custom liveries by Blueprint Nottingham and accessories and racking by AutoRoofs Automotive Ltd helped to transform the vans from standard factory specifications to effective mobile workshops.

Tuntum is a black and minority ethnic-led housing association based in Nottingham. Established in 1988, the company is an independent social business that provides quality homes and services to support people and communities in need. It currently manages over 1,400 properties and provides homes for over 3,000 people in 11 local authority areas, as well as accommodation for older people, refugees, younger mothers, and the homeless.

"After exploring many different options we are very happy with the decision to upgrade our vans to the Vivaro and Movano models," said Richard Renwick MBE, Tuntum's Chief Executive. "Their operational efficiency will enable us to provide the best possible service to our customers and the wider community."

"We're delighted that Tuntum Housing Association has chosen two of our class-leading vans to support their work across the community," said Derek Wilson, Vauxhall's Light Commercial Vehicle Director. "Both the Vivaro and Movano are practical and efficient vans that are certain to be great partners for the organisation's field engineers."

You can view the Vauxhall Commercial vehicle range on the Pentagon website; visit your nearest Pentagon Vauxhall Commercial Dealership or call on 0330 390 6849 to discuss what the best vehicle solution would be for your unique circumstances.