Scrap Your Old Car And Get £2,000 Off A New Vauxhall At Pentagon Today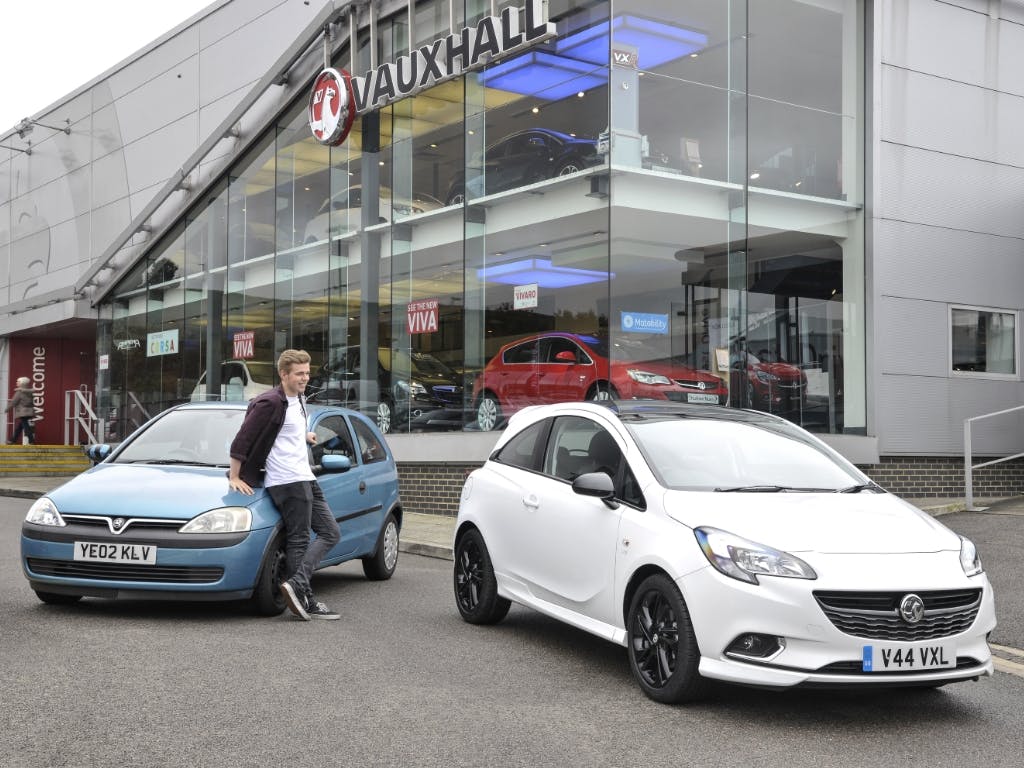 Thinking of trading in your old car or selling it privately before investing in a new model? Don't make any rushed decisions because it could well be worth more than you think. Vauxhall has re-launched its own scrappage scheme and is offering up to £2,000 off the price of a brand-new model when you trade in your old vehicle at your nearest Pentagon showroom.
If you've had your eye on a shiny new Vauxhall then why not take advantage of this limited-time offer and earn a substantial discount.

Bring Us Your Banger

One of the best things about the new Vauxhall scrappage scheme is that we're able to accept cars of any age and in any condition. If your hatchback or family saloon has provided years of loyal service but is now struggling to get through its annual MOT, or perhaps simply doesn't offer the same kind of day-to-day reliability it once did, the team at Pentagon will be happy to take it off your hands. You won't need to worry about any paperwork either, as we'll take care of everything.

Minimum Ownership Period

One thing we do ask is that you have been the registered owner of the vehicle you're trading in for at least 90 days.

From Compact City Cars To Spacious SUVs – The Choice Is Yours

Purchase your next new car from Pentagon Vauxhall and you'll have access to the entire range of new Vauxhall models, from city runabouts and family estates through to people carriers, off-roaders, convertibles, and performance saloons. With options to meet all budgets and lifestyles, you should have no problems when it comes to using your £2,000 Vauxhall scrappage discount.

Bold and stylish, the new Vauxhall Adam lets you express your individuality with ease thanks to thousands of customisation options. Compact and agile, it's a perfect choice if you spend your time navigating busy urban streets and need a car that's nimble enough to keep up. Go for the economy with the 1.2i engine, or enjoy a little more pace by choosing the 100PS 1.4i powertrain. Clever optional driving aids ranging from parking assistance and city mode through to blind-spot detection will help to keep you and your passengers safe at all times.

The new Vauxhall Corsa three-door hatchback is another dynamic and affordable supermini, while additional space and practicality are on offer with the new five-door Vauxhall Corsa. Attractively priced, the new Vauxhall Corsa comes in a variety of trims and equipment levels like the Energy, SRi, and Limited Edition which are all available with the scrappage discount.

The Vauxhall Insignia has helped to redefine the mid-size family saloon sector thanks to its ground-breaking design, use of innovative technology, and sleek interior and exterior styling. The Insignia's range of engines is powerful yet impressively efficient, with ecoFLEX engine technology keeping CO2 emissions down as low as 98g/km. When space is a priority, the Vauxhall Mokka X, the Vauxhall Meriva, and the recently updated seven-seat Vauxhall Zafira are all great options.

The Convenient Choice

The team at Pentagon has been matching car buyers with their dream vehicles for more than 20 years, and we're growing all the time. We have Vauxhall dealerships across the country, meaning you'll find it easier than ever to access an outstanding range of quality vehicles.

You'll find our state-of-the-art Vauxhall dealerships in Rochdale, Oldham, Lincoln, Derby, Burton-on-Trent, Mansfield, Nottingham, Sheffield, Manchester and Loughborough. What's more, all of our showrooms are staffed by experts who will be more than happy to discuss the finer details of Vauxhall's latest deal and guide you through the outstanding range of new vehicles available.

Great Deals On All-New Vauxhall Cars

Almost every car in the Vauxhall range is available with the scrappage allowance. The only new car models that aren't covered by the scrappage scheme are the new Vauxhall Corsa Sting and Sting R, the Viva, and the Adam Jam.

Responsible Recycling

We always put our customers first and strive to offer a friendly, professional, and responsible service at all times. Take part in the Vauxhall scrappage scheme and you can rest assured that Pentagon will ensure your old vehicle is disposed of responsibly via a dedicated authorised treatment facility. The process will be handled by Autogreen, one of the motor industry's leading names when it comes to the disposal of scrap cars. To date, Autogreen has organised the collection, treatment, and environmental disposal and re-use of more than 1.25 million vehicles.

Find Out More

Interested in finding out more about the new Vauxhall scrappage offer, or any of the other fantastic new car deals at Pentagon? Get in touch with a member of the team at your nearest
Notes to Editor:
Vauxhall Scrappage - Up to £2,000 Scrappage allowance towards a new car is offered on condition that the traded-in car must have been registered in your name as the owner for a least 90 days and the registration document must be in your name and address. Offers available to private individuals and small businesses 1-24 units (purchase only). All other sales categories are excluded.*Offers apply to selected new vehicles, subject to terms and conditions. Does not apply to VIVA, Corsa Sting, Corsa Sting R, Corsa Diamond, ADAM Jam, and delivery mileage vehicles that we've bought in bulk direct from Vauxhall. Up to £1500 extra discount is available on ADAM, Corsa, and Meriva. Up to £2000 is available on all other models.