New Vauxhall ADAM ROCKS AIR to hit UK market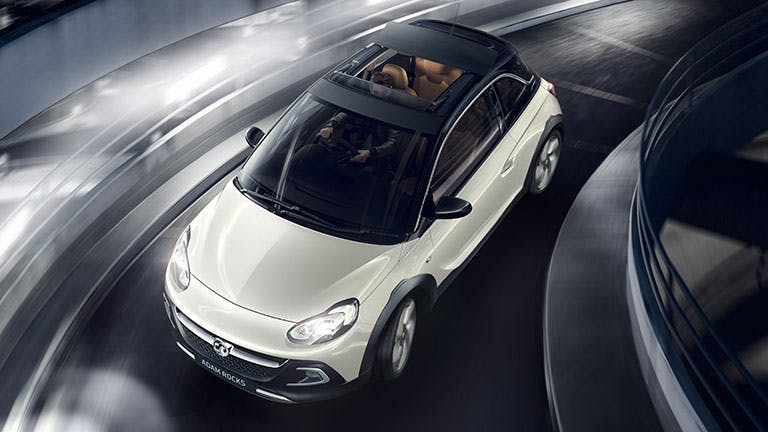 With more than 100,000 orders clocked up since the launch of the new Vauxhall ADAM back at the start of 2013, there is little doubt that this urban-chic city runabout has firmly grabbed the attention of motorists. According to Vauxhall, the car has been selling particularly well in the UK, Germany, Italy, France and the Netherlands.
One of the most striking things that set the ADAM apart from other vehicles in the sector is the incredible scope for personalisation. There are currently more than one million different specification and trim combinations available, allowing motorists seemingly endless opportunities to put their own stamp on their car and ensure that it reflects their own individual style and tastes.

Tim Tozer, Vauxhall's Chairman and Managing Director, said: "Thanks to its striking design and over a million different spec combinations, ADAM has been a big hit with our customers. And if that wasn't enough, Vauxhall is adding the robust ROCKS AIR to the ADAM range featuring an all-new 1.0-litre three cylinder engine."

The model was first unveiled at this year's Geneva Motor Show back in March – an event that is regarded as one of the biggest showcases in the global automotive calendar. Since then the car has been attracting a significant amount of attention ahead of its imminent release in the UK. Vauxhall's team certainly hasn't hung around with this new addition to the range, taking the ROCKS AIR from concept car to production model in just 12 months. The car features the same contemporary styling as other variants in the ADAM range, and aims to be seen as a "funky urban mini-crossover", combining the qualities of an SUV as well as a coupe. According to the vehicle's designers, inspiration for the exterior styling of the model came from the parkour, or free-running, community.

The new ADAM features a bolder and tougher stance than other models in the family, a result of its increased dimensions. The chassis gains an extra 15mm to offer more ride height and better ground clearance with a view to making the car more practical. It has also gained an extra 20mm in width. Standard fit items include tinted windows, LED signature headlamps and LED lights at the rear of the vehicle. A set of 17'' alloy wheels also feature across the range.

The ADAM ROCKS AIR will be perfect for drivers who enjoy nothing more than open-air fun – with the feel of the wind in their hair and the sun on their face. A full-length, electric folding canvas roof, which can be lowered in just seven seconds, helps to keep weight down on the vehicle but also allows motorists to make the most of good weather. The theme of extreme personalisation has been central to the ADAM range since the first models appeared and this idea has carried on with the new release. The roof is one example of where owners can find a version to fit their style. It is available in a choice of three exterior colours – Light Oak, Black or Sweet Coffee.

The interior of the car is just as impressive in terms of styling and comfort. The model is the only vehicle in its class to offer a heated, leather-wrapped multi-function steering wheel, as well as heated driver and front passenger seats. Optional Electronic Climate Control is also available. The ADAM ROCKS AIR also boasts an impressive range of entertainment options, and comes with a seven-speaker sound system, CD player and DAB radio as standard. The IntelliLink infotainment system can be added for an extra £275, which allows drivers to easily connect their Android or Apple smartphone to the car. USB and Bluetooth connectivity are available to allow audio streaming, along with a range of inventive apps.

As highlighted by Tim Tozer, the Vauxhall ADAM ROCKS comes complete with a three-cylinder 1.0-litre ECOTEC direct injection turbo engine. The powertrain's deceptively small size does not prevent it from delivering an impressive 114bhp and low-end torque of 166Nm. A six-speed manual gearbox is present on the ROCKS AIR. With a top speed of 121mph and a 0-62mph time of less than 10 seconds, the model is impressively sprightly, yet it still manages to deliver impressive fuel economy of up to 59mpg. The new ADAM is also kind to the environment, keeping CO2 emissions down to 114g/km. Owners have the option of plumping for the range's 1.2-litre unit offering 70bhp, or the 1.4-litre powertrain, which offers 87bhp. Both of these options come with a manual five-speed transmission.

Safety has been central to the design of the new Vauxhall ADAM ROCKS AIR from the start. Electric Power Steering comes as standard and features a dedicated CITY mode. The aim of this feature is to increase the level of power assistance when the vehicle is travelling at low speeds in order to aid manoeuvrability. It is available at the touch of a button and is designed to help drivers navigate their way through congested urban areas much more easily. Hill Start Assist and remote central locking also feature across the range. Park Assist with Side Blind Spot Alert is also available as an optional extra.

Alongside the standard fit features on the new Vauxhall ADAM ROCKS AIR are a huge variety of optional extras. These include floor mats, a car alarm, leather trim, interior décor options, backlighted foil décor, fuel-saving Start/Stop technology 18'' alloy wheels, interior and exterior mirror caps and a coloured logo bar.

Orders for the all-new Vauxhall ADAM ROCKS AIR, which is priced from £14,695 on-the-road, are being taken now. For more information on the new Vauxhall ADAM ROCKS AIR and to book a test drive, call us on 0333 2220424 or alternatively get in touch via www.pentagon-vauxhall.co.uk.