Nissan Celebrates the Sale of their 3,000th UK LEAF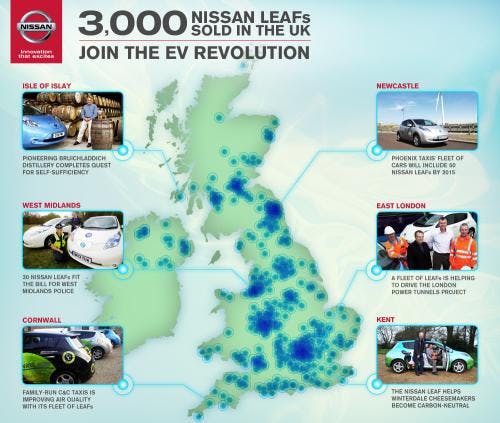 Nissan recently celebrated the sale of its 3,000th LEAF model here in the UK. The milestone shows the growing popularity of the green vehicle market, selling strongly across many countries in Europe.
Nissan recently celebrated the landmark sale of the 3000th LEAF model in the UK. This achievement underlines the company's position as leader in the electric car market, making it a top choice for those searching for a reliable, green car.

An impressive 141 new British-built LEAF models were registered at dealerships across the country in November and Nissan explained that these sales figures demonstrate a growth in popularity of the brand as consumers flock to vehicles that blend environmental-friendliness with good fuel economy.

The five-door hatchback was initially launched in Japan and the United States in 2010 but was soon brought to the UK in 2011. The vehicle quickly became popular, as it produced no pollution or greenhouse gasses from its tailpipe, cutting consumers dependence of fossil fuels entirely.

Rather than relying on a fuel tank, the LEAF gets it power from a special 23kWh battery pack that consists of 192 cells. These modules feed into a large front-mounted synchronous electric motor that produces an impressive 109bhp. With a 117km range and the equivalent of 106mpg in the city and 92mpg on highways, it is no surprise that it continues to be a popular choice amongst many drivers, despite some limitations.

Jon Pollock, Sales Director at Nissan GB said: "The LEAF is a true pioneer in every sense and in its lifetime it's already done a huge amount to change attitudes and open minds in the UK and across the world. The fact the we have been able to reach the 3,000 mark is a fantastic achievement and shows not only what a wonderful car it is but also that motorists are keen to experience the revolutionary new technology it introduces."

He continued by saying: "The low running costs of the LEAF, not to mention its many other benefits, make it an incredibly attractive proposition and we have been seeing steady growth in sales. We expect that trend to continue rising as the model's visibility increases and the rapid charging infrastructure expands across the UK."

Nissan announced that the second generation LEAF in May 2013 came with an impressive 100 improvements. Already selling some 1,300 models, if things go as planned, it may become a strong selling point and we may see many more generations of the LEAF.

For more information or to book a test drive in the Nissan Leaf, please call us on 0333 222 0424 or alternatively visit us at www.pentagon-nissan.co.uk.