The Pentagon Black Friday One-Day Sale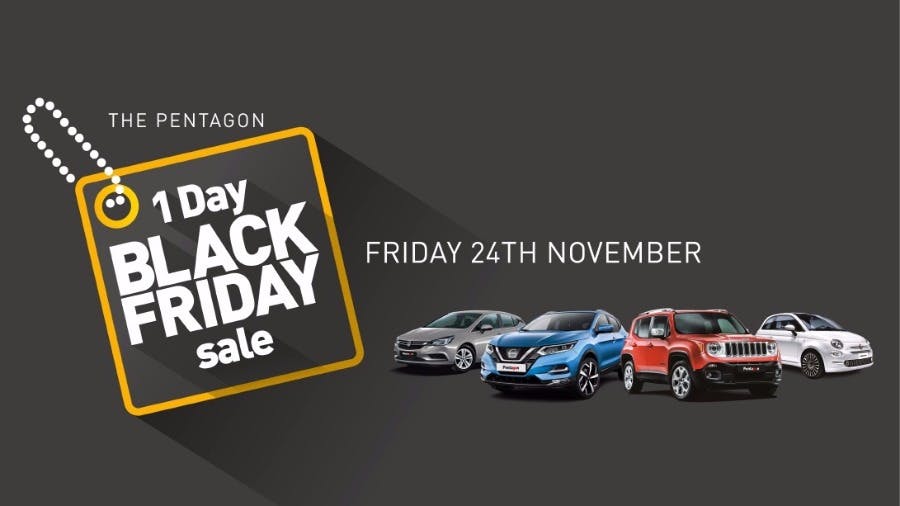 Drivers across the country can take advantage of extra savings on every new and used car and commercial vehicle in stock in this year's Black Friday event at Pentagon.
This year Black Friday falls on the 24th of November and Pentagon dealerships in the North West, Yorkshire, the East Midlands and Lincolnshire are applying extra discounts to every car and van in stock. The price of used cars and used vans will drop at www.pentagon-group.co.uk at around 5 pm on Thursday 23rd November to give customers the chance to look through all the deals available.

Customers who order a brand new car can also claim an extra £500 deposit contribution when they choose to finance their new car through Pentagon.

There are also extra discounts on around 350 new cars and vans in stock with delivery mileage (usually less than 50 miles on the clock). What's great about vehicles with delivery mileage is that they are just like brand new cars and vans but with even bigger discounts off the new MRRP. The only real difference is that Pentagon is recorded as the first owner, and you the second. For extra peace of mind, you'll also get the remainder of the manufacturers' full warranty when you buy the vehicle.

All prices and offers will return to pre-sale levels on Saturday 25th November.

"Black Friday has become increasingly popular here in the UK over the last few years as customers look to get a bargain in time for Christmas," said James Reeve, Marketing Director at Pentagon. "We are once again getting involved this year by making the vast majority of cars and vans even more affordable for our customers. When we held this event last year we sold around 3 times more vehicles than we'd expect on a normal Friday in November, so customers know Black Friday is a fantastic time to grab a great deal on a new or used car or van."

So, you've got just 10 hours from 9 am until 7 pm on Friday 24th November to take advantage of these amazing Black Friday car and commercial vehicle deals.

To find out more about the Pentagon's one day Black Friday event get in touch with your nearest Pentagon showroom or call us on 0333 222 0424 (local rate).
Notes to Editor:
Conditions apply. Vehicles must be ordered on Friday 24th November 2017.