New Jeep Renegade hopes to churn up UK's compact SUV market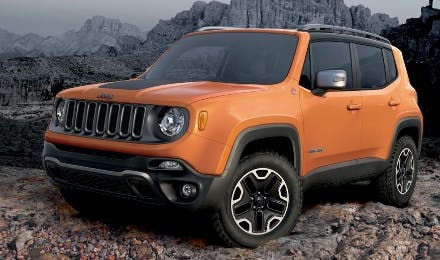 With just a matter of months left until the all-new Jeep Renegade lands in Pentagon showrooms, interest is increasing in the model that will represent the brand's latest entry into the small SUV segment. With the release of this vehicle, the manufacturer is hoping to expand the Jeep brand across the world by appealing to a new type of customer – primarily young buyers with a keen sense of adventure.
The 2015 Jeep Renegade has been designed to offer the ideal mix of style and practicality, as well as the kind of off-road ability that will mean this model is always ready for anything you can throw at it.

While Jeep has a solid reputation for producing iconic 4x4 vehicles, this is the company's first real attempt to enter the valuable crossover market. In recent years this segment has grown rapidly in popularity, with regular new entrants attempting to get a slice of the pie. According to data compiled by the Society of Motor Manufacturers & Traders (SMMT), almost 250,000 dual-purpose vehicles – more commonly known as crossovers or compact SUVs – were registered in Britain in 2013. As a result, this market became the third-most-popular car segment, following what can only be described as a staggering increase in popularity. The sector's market share has increased from just 4.5 per cent in 2000 to 11 per cent in 2013. And while this section of the new car market suffered due to the effects of the recession in the UK and indeed around the world, it has bounced back and is now thriving once again, with 52 separate models in the segment last year. Jeep is hoping that its new Renegade will spark the imagination of drivers who are clearly looking to invest in a vehicle that can fit in seamlessly with their lifestyle.

Mike Manley, president and chief executive of the Jeep brand said: "Renegade symbolises the brand's renowned American design, ingenuity and innovation, marking the Jeep brand's first entry into the small SUV segment in more than 100 markets around the globe."

Without a doubt, the all-new Jeep Renegade has been designed to stand out from the crowd, thanks to its wide stance, bold front grille and large headlight clusters. This is an SUV that looks striking and aims to convince admirers of its off-road credentials before picking up even a speck of dirt. A choice of 16 fuel-efficient engines in total and an excellent level of interior refinement also ensure the 2015 Jeep Renegade is exceptionally easy to own.

The interior of the new vehicle features a rugged and energetic feel, making use of high-quality materials and state-of-the-art technology, including the manufacturer's award-winning Uconnect Access system and Uconnect touchscreens. The sculpted soft-touch instrument panel features a passenger grab handle – just one example of the model combining practicality with optimum style. For added practicality, the Renegade comes with a removable, reversible and height-adjustable cargo floor panel, along with a convenient fold-forward front passenger seat that helps to make this vehicle even more adaptable to your needs. There's a considerable amount of space available inside to make even the longest of journeys a pleasure, while wide-opening doors help to make gaining access to this model a breeze.

Owners looking for open-air freedom can choose to have one of two My Sky roof panel systems installed in their vehicle, designed to make it quick and easy to bring the outdoors inside and truly connect with the environment. Manual and powered versions are available, and both involve the removal of honeycomb fibreglass polyurethane roof panels. It's also exceptionally easy to put your own stamp on this model thanks to the wide range of personalisation options on offer for the Jeep Renegade. There is a varied colour pallet available, along with plenty of alloys to choose from, interior refinements such as leather trims, as well as tents, kayak and bike carriers and door-sill guards.

Jeep has also made the new Renegade the world's first small SUV to come with a nine-speed transmission. The benefits of this automatic system include rapid launches, smooth delivery of power at speed and improved levels of efficiency compared to what is achievable with a six-speed automatic gearbox.

Without a doubt, it is away from the tarmac where the new Jeep Renegade really comes into its own. Best-in-class ground clearance means there's far more room for manoeuvre when it comes to tackling dirt tracks and obstacles, while an impressive wading depth will ensure you make it through a good range of terrain in one piece. The model offers highly advanced 4x4 systems capable of providing 100 per cent of the powertrain's available torque through any wheel to ensure maximum grip when it's required. However, for those drivers not so inclined to leave the safety of the tarmac and venture off-road, a regular front-wheel-drive Renegade model will also be available.

As you would expect, safety is integral to the build of the new Jeep Renegade and the vehicle features up to 70 advanced safety and security features such as Forward Collision Warning-Plus and LaneSense Departure Warning-Plus. Additional safety features include a system of seven airbags, electronic stability control (ESC) with electronic roll mitigation, a reversing camera, blind-spot monitoring and a Rear Cross Path detection system, all of which are designed to keep the occupants safe.

The Jeep Renegade is set to be released into the UK market in the first quarter of 2015 and you'll be able to find out more about the model by visiting your nearest Pentagon showroom. Go online to have a look at the Jeep models available, call a member of the team on 0333 222 0424 or head down to the dealership to discuss the available stock, finance options and arrange a test drive.