Get Mobile At The Pentagon Motability Event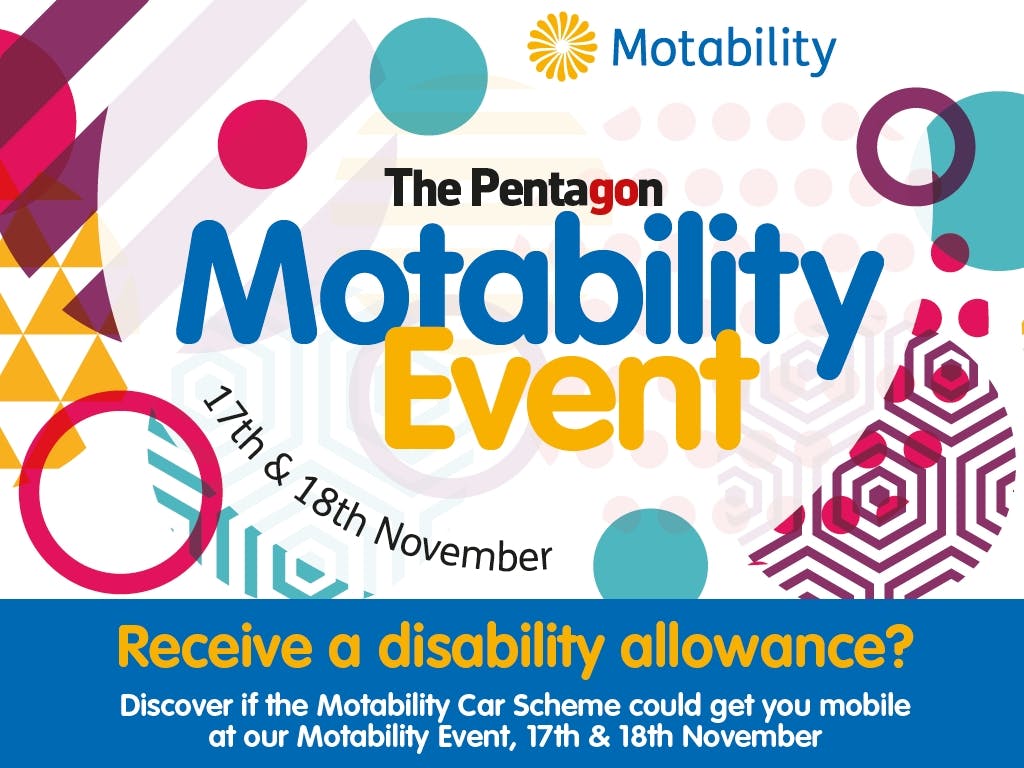 On Thursday 17th and Friday 18th November Pentagon will be hosting a Motability event at every dealership to help provide customers with more information about Motability and the range of vehicles available.
The Motability Scheme provides an affordable, worry-free way for people with disabilities to lease a car. It allows people receiving certain types of mobility allowance to drive a brand new vehicle every three years in exchange for all or part of their weekly allowance.

Motability benefits include fully comprehensive car insurance, RAC breakdown cover, replacement tyres, replacement windows and windscreens, servicing and maintenance and a 60,000 mile allowance - all for three years. The scheme takes care of everything; all you need to do is add the fuel! It's as simple as that.

The Pentagon Motability Event is a great opportunity to find out more about how the Motability scheme works and the types of vehicle available. Pentagon's Motability specialists will be on hand to answer any questions you may have and to help you to understand how a vehicle could be tailored to meet your needs. There will also be light refreshments available on both days plus there's a free prize draw to win an iPad Mini and a competition that'll give visitors a chance to win a brand new car worth £15,000.

You could be eligible for a new car if you receive one of the following: the higher rate Motability component of Disability Living Allowance, the enhanced rate Motability component of Personal Independence Payment, War Pensioners' Motability Supplement or the Armed Forces Independence Payment.

If you would like to find out more about Motability and how it works visit the Motability website or call Pentagon on 0333 222 0424 (local rate) to book an appointment or test drive. Alternatively, simply head down to your local Pentagon dealership on the 17th or 18th of November during the Event where a Motability specialist will be happy to tell you more.