VIP Exclusive Event Returns to Pentagon Dealerships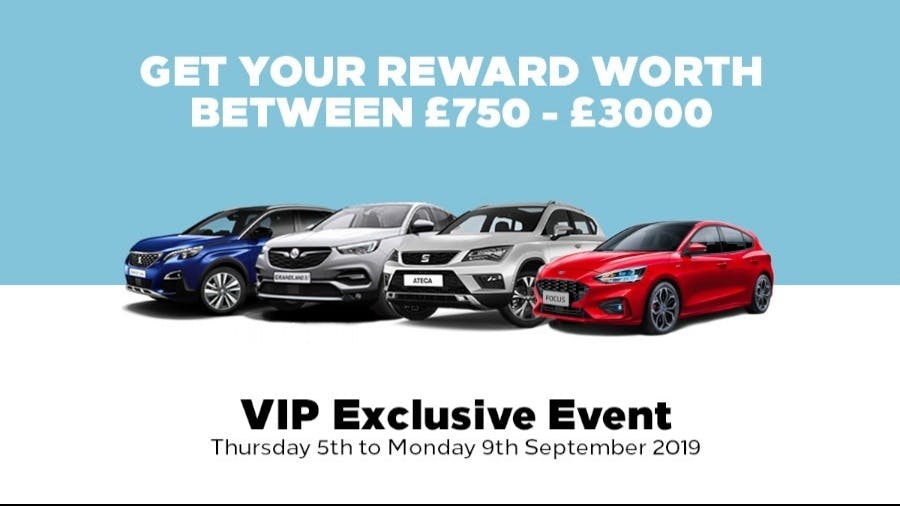 This week the VIP Exclusive event returns to Pentagon dealerships for 5 days only. During the event there will be the chance to benefit from exclusive dealer level and manufacturer approved discounts on a huge choice of new and used vehicles.
Key Facts

5 Day event starts 9am Thursday 5th September 2019.
Personalised VIP Exclusive finance incentive worth between £750 and £3000 to be used towards the deal on a new or used car.
Event ends on Monday 9th September at 7pm.

This is a great opportunity for customers to drive away a brand new 69 plate or approved used car with substantial dealer savings and an additional manufacturer authorised VIP Exclusive bonus worth up to £3000.

On Wednesday 4th September the management team at your local Pentagon dealership will close the showroom early to get ready for the event. Pentagon has managed to secure extra manufacturer discounts as well as enhanced finance offers on most new vehicles and trim levels – which also includes some generous deposit contribution allowances.

Customers making an appointment for the event will be given a unique reference number that when activated and scanned on site will allow the reveal of the personalised VIP Exclusive bonus. Once the clock reaches 19:00 on Monday 9th September all unclaimed VIP Exclusive bonuses will expire and no longer be available.

"Our previous VIP Exclusive event was a real success and there was a great atmosphere of excitement as people found out what their personalised VIP Exclusive bonus was worth," said Jonathan Lingham, Head of Marketing for Pentagon. "There are still a few unique reference codes left for anyone looking to attend the event, but they're going fast so I'd encourage anyone considering a visit to give the VIP Exclusive team a call as soon as they can to make sure they don't miss out."

The number of VIP Exclusive reference numbers available s strictly limited and will be issued on a first call, first served basis.

To avoid disappointment, confirm your attendance by calling the Vauxhall VIP Exclusive Event team on 0333 222 0423 (local rate). The VIP Exclusive Event team will issue your VIP Exclusive UCRN and confirmed appointment time. Alternatively, you can register by emailing your name and contact details to vip@pentagon-group.co.uk.