Pentagon Mazda Shares Spirit Of Christmas With Local Hospice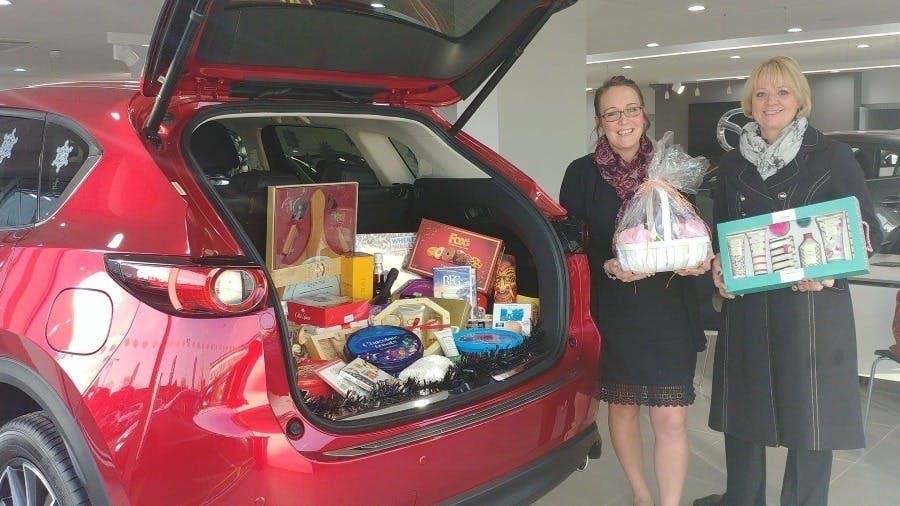 Lincoln-based Pentagon Mazda has donated more than £120 and a Mazda CX-5 'sleigh' full of Christmas Gifts to St Barnabas Hospice, a local hospice that provides support to people with a life-limiting or terminal illness.
In the true spirit of Christmas, the Tritton Road dealership turned its showroom into a festive wonderland over the Christmas period to help collect presents and raise donations for the hospice.

Pentagon Mazda customers were invited to the showroom to donate gifts at the drop-off point, an all-new Mazda CX-5 'sleigh' decorated with the St Barnabas Hospice logo. The dealership received many generous gifts, including chocolates, games, and hampers, which the hospice will use as raffle and tombola prizes for its popular fundraising events throughout the year.

The dealership chose to support the charity after the hospice provided support to their late Service Manager, Phil Witts. Pentagon Mazda employees also raised more than £120 for St Barnabas Hospice, which was donated in memory of Phil.

Richard Wagstaffe, General Manager at Pentagon Mazda said, "I'm extremely grateful to everyone who visited our festive gift drop-off point throughout December. We received many wonderful gifts that will help a hospice that is especially close to our hearts after they cared for Phil in his final weeks. I'm also very proud of the team for coming together to raise money in Phil's memory, which we hope will help the hospice to continue its incredible service."

Caroline Swindin, Corporate Fundraiser at St Barnabus Hospice, said "We would like to say a huge thank you to everyone at Pentagon Mazda, along with their customers and members of the public, for donating so many beautiful gifts. The gifts which you have very kindly provided will make up some of our patients Christmas Day stockings. Also, donations such as these will be used throughout the year at fundraising events and raffles. These events will ensure we can continue to provide our care and support to those throughout Lincolnshire living with a terminal or life-limiting illness. Once again, our heartfelt thanks to everyone involved."

St Barnabas Hospice is a local independent hospice based in Lincolnshire. The charity provides end-of-life care services, both at the hospice and in the local community, to adults with advanced progressive life-limiting conditions. Every year, St Barnabas Hospice supports more than 9,000 people across Lincolnshire and provides free, high-quality, compassionate end-of-life care and support to patients, their families, and carers.

To donate to St Barnabas Hospice or to find out more information about the charity, visit www.stbarnabashospice.co.uk, or call 01522 511 566.